Cobar Basin & Lachlan Fold Belt (SER 100%, NSW)
SER won two key exploration licences in NSW covering extensions to known mineralised terranes:
EL9012 "South Cobar" along strike and surrounding the undeveloped Browns Reef Zn-Pb-Cu deposit; and
EL9057 "East Cowal" 7km east of the operating Cowal Gold Mine (FY20 gold production: 262,035 ounces) and 4km north of the Marsden Cu-Au deposit (FY20 resource: > 1Moz Au & 500kt Cu), both owned by Evolution.
Both tenements lie within NSW Mineral Allocation Areas (MAAs) covering extensions to known mineralised terranes. Exploration licence applications cannot be lodged in MAAs without Ministerial consent. Expressions of interest are reviewed by an expert assessment panel who make a recommendation to the Minister. SER successfully received Ministerial consent and has now been granted both tenements.
EL9012 South Cobar
The South Cobar project covers 287km2 of fertile stratigraphic sequences of the Cobar Supergroup immediately adjacent to the undeveloped Browns Reef Zn-Pb-Cu volcanic massive sulphide deposit. SER's project area contains multiple gold and base metal occurrences along prospective north-east trending reactivated growth faults between basement and basin infill sequences.
Latest Update – Airborne Magnetic and Radiometric Survey
SER has contracted Thomson Airborne Pty Ltd to undertake an airborne magnetic and radiometric survey over the entire mineral exploration licence. This survey utilises a Cessna 210 survey aircraft to collect information about the natural magnetic and chemical properties of the ground below. The information will help map geological features such as rocks, minerals, faults and soils and will be used by SER to locate future ground-based activities designed to test the area's potential to host metal deposits. The plane will fly during daylight hours at about 50m above ground level in 10km to 13km long east–west lines above EL 9012 that are 50m or 100m apart. The entire survey will be completed within 5-7 days during early July 2021, with flights every day, weather permitting.
The noise made by the aircraft will be comparable to the noise made by a lawnmower and it will pass rapidly. The NSW Government has created a video that demonstrates the aircraft sound level, which can be viewed online at https://youtu.be/TIJFUwdETdo.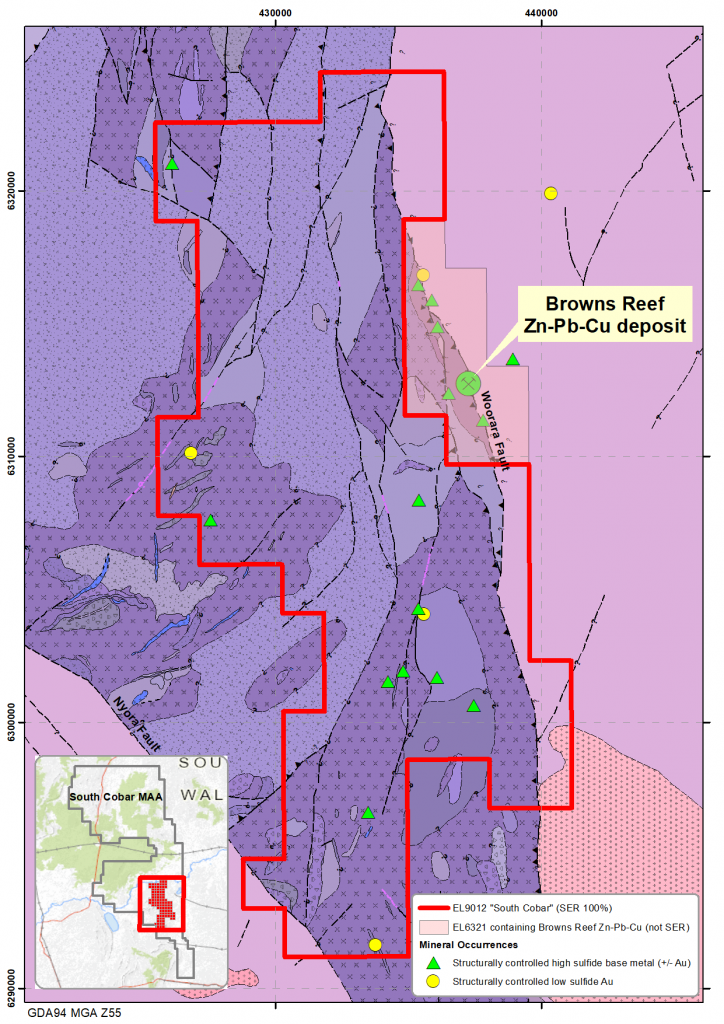 EL9057 East Cowal
The East Cowal project (29km2) is located in the Junee-Narromine Volcanic Belt overlying the interpreted Cowal Igneous Complex of the Lachlan Fold Belt, NSW. The tenement lies 7km east of the operating Cowal Gold Mine (a > 9Moz Au low sulphidation carbonate-base metal gold system that produced 262,035 ounces of gold in FY20[1]) and 4km north of the undeveloped Marsden Copper-Gold porphyry deposit (> 1Moz Au & > 500kt Cu)[2], both owned by Evolution Mining Ltd (ASX:EVN). SER's EL9057 is surrounded by ground held by Evolution.
Previous exploration efforts have identified key structural and geophysical targets within ELA6137 worthy of follow up. The depth to basement at East Cowal is estimated to be approximately 150m. No recorded drilling within EL9057 penetrated below 200m, indicating the basement targets have not been adequately tested.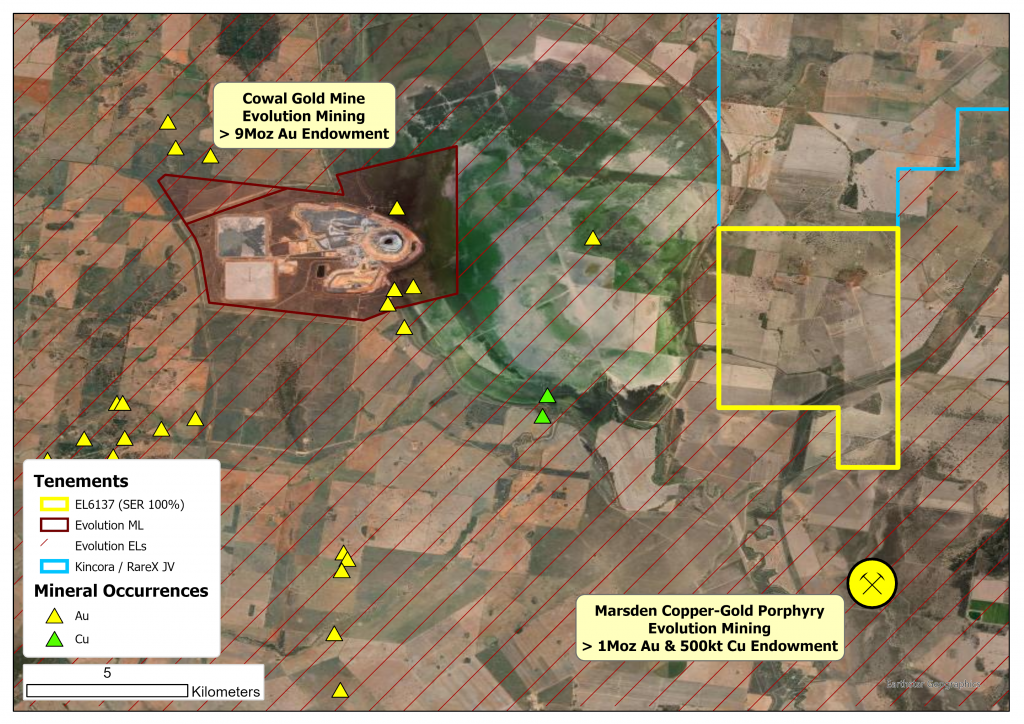 Be Part of the Vision and Contribute Today