East Tennant Copper-Gold (Northern Territory)
On the 16 May 2023, SER announced the signing of a binding Sale and Purchase Agreement with ASX-listed Middle Island Resources Limited (ASX:MDI) for the sale of SER's East Tennant Project. The sale included EL32109, EL32306, EL32307, EL32617, EL32760 and EL32809 which are located near MDI's existing exploration projects in the East Tennant region (Fig 1).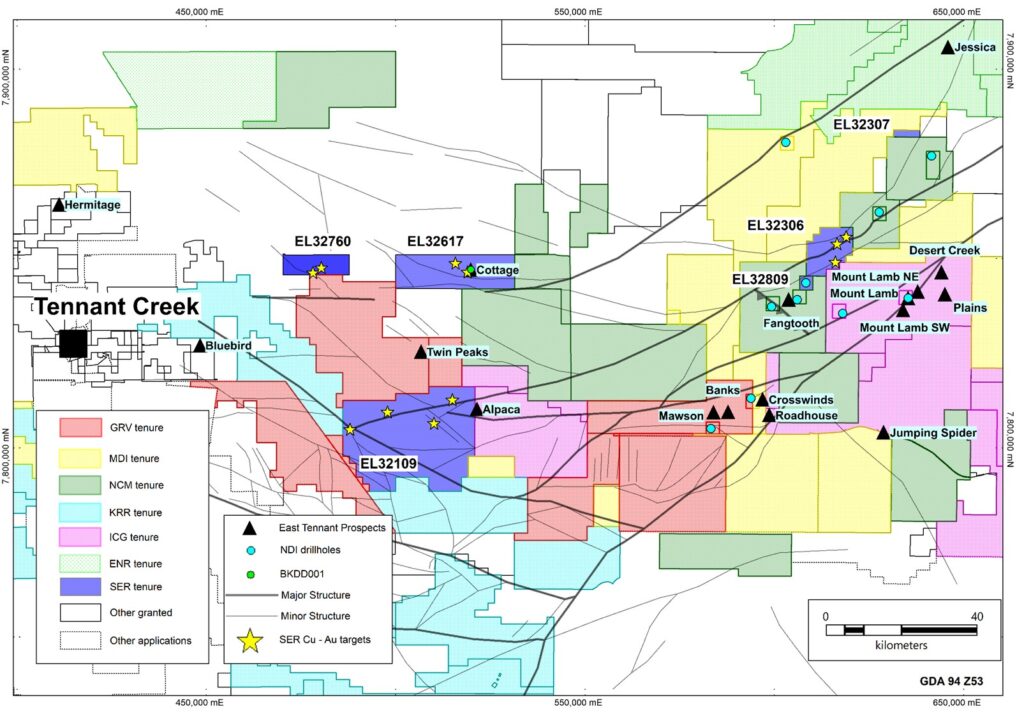 Key Transaction Details:
Middle Island to purchase 100% of SER's East Tennant Projects for 18,240,000 fully paid ordinary MDI shares, for a deemed issue price of $0.035 (3.5 cents), to be issued within 5 business days following satisfaction of completion conditions in SPA. No cash consideration is payable.
Completion is subject to fulfilment of a number of key conditions outlined in the ASX Announcement dates 16 May 2023.
Commenting on the signing of the Agreement, SER Managing Director Dr David DeTata said;
"The East Tennant region remains highly prospective for the discovery of copper and gold and SER has assembled a portfolio of high priority targets which demand drill testing. The sale of the East Tennant Project to MDI, which has a considerable land position in the region, is a sensible consolidation that ensures SER's targets will be tested and increases SER's exposure to exploration success across the region.
"This transaction is aligned with SER's corporate strategy: generate high quality Greenfields projects, add value through science-driven exploration, and share risk and reward ensuring the strategy can continue".
Be Part of the Vision and Contribute Today